FarmingSimulator 19 mods presentation: The John Deere 6000 Premium Series tractorsby MB3D Modelling and Udruzenje Nezavisnih Modera. The download guide isat the end of this post.
The FS 19John Deere tractors line-up gets another addition with the 6000 Premiumseries tractors. And it's a great addition!
SideNote: In thereal world, a John Deere Premium is better equipped than the standard version(obviously...) Premium versions will often have more complex hydraulics, bettertransmission, and a more luxurious cab.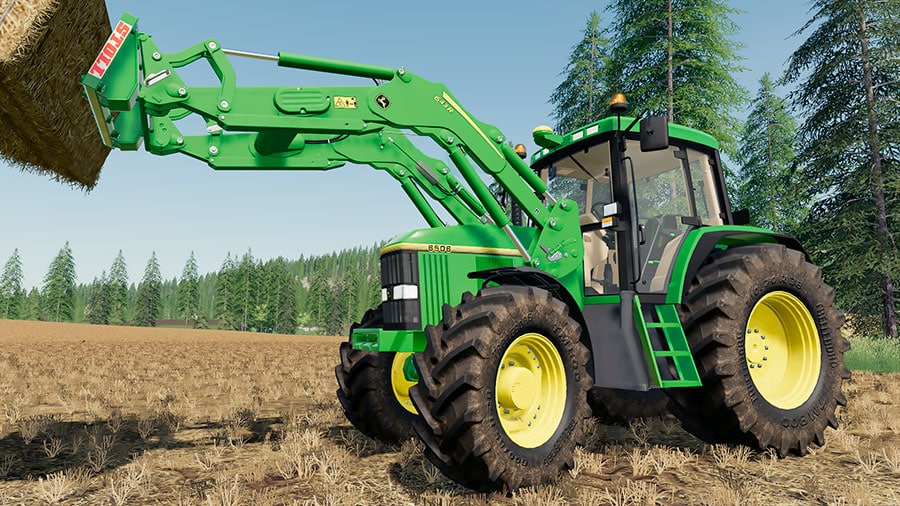 Customization Options
The JohnDeere 6000 Premium models offer many configuration options. Here are somehighlights:
Color options- There are a few colors available for the front loader attacher.
Objects -You can add a GPS unit, a front shield, a JD steering knob, beacon lights,extra mirrors, work lights, and a passenger seat to your tractor.
Wheels - Alot of wheel options are available, ranging from narrow singles to wide dualswith weights, all from different brands.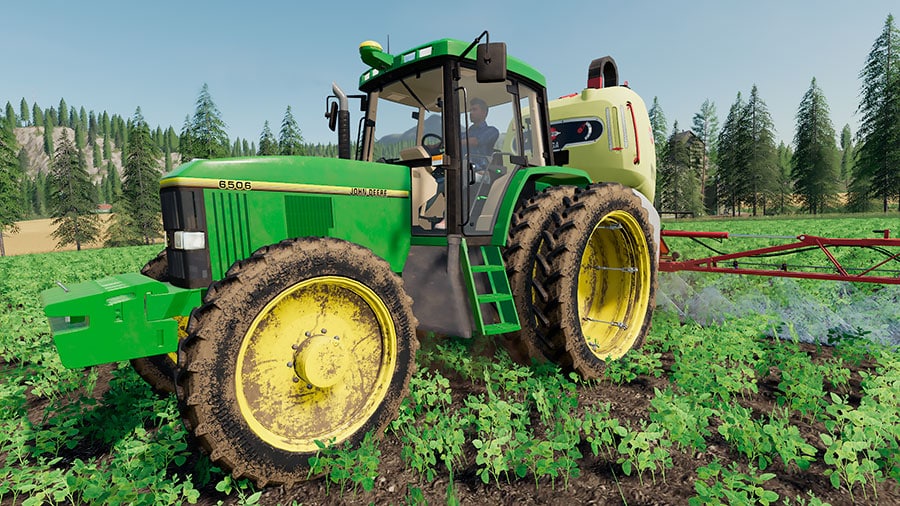 There are different front options too...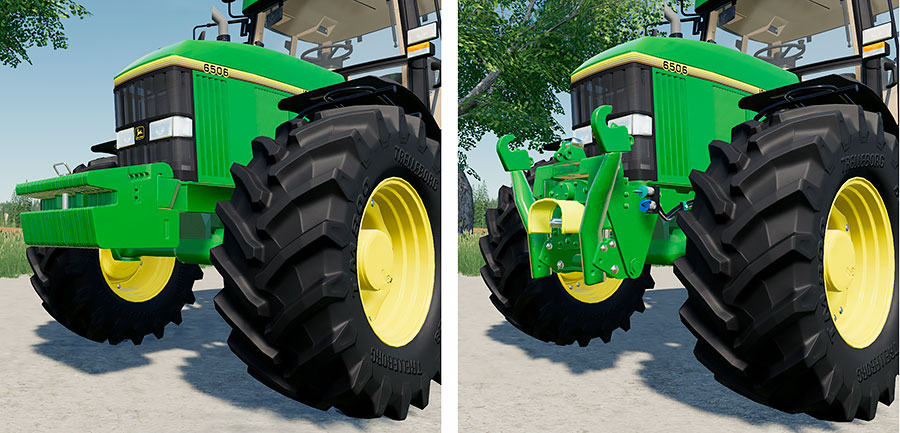 IC-Controls
These JohnDeere 6000 tractors have IC (In-Cab) controls. When you press yourkeyboard's space bar, you can tilt the steering wheel and open windows anddoors with a mouse click.
There'sonly one problem.The current version of the IC script doesn't work with Courseplay. Otherplayers are reporting all kinds of trouble. You either need to avoid using CPwith the JDs, or you can remove the IC functionality (which requires someXML editing.)
Hopefully,the modder responsible for converting the IC script will update it. It workedflawlessly with Courseplay in FS17...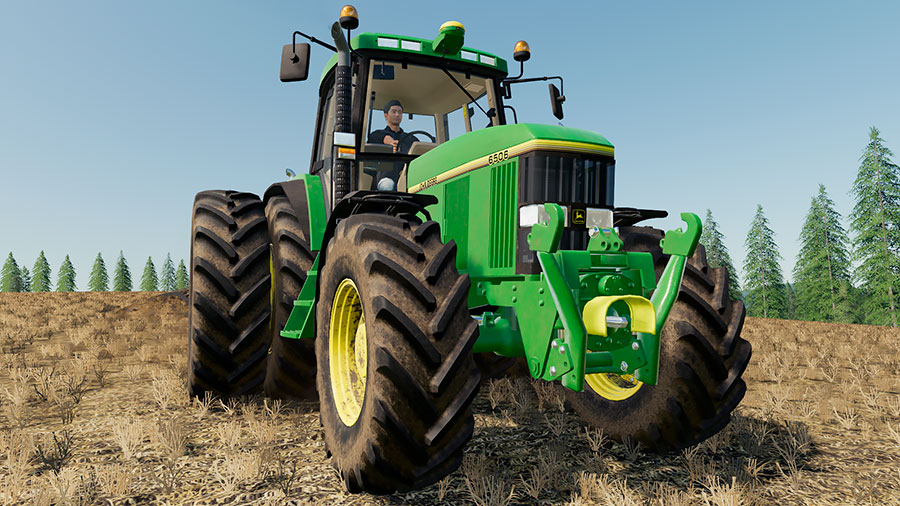 FS 19 John Deere 6000Premium
This is a high-qualitytractor mod. It's well-optimized for in-game performance while maintaining alot of stunning details. Here you have some facts:
Brand: John Deere.
Credits: MB3D Modelling and Udruzenje Nezavisnih Modera (UNM Modding.)
Category: Medium Tractors.
Base price: 36,000.
Engine configurations: 4 – 6506P, 6600P, 6800P, and 6900P.
Power range: 105, 110, 120, and 130 horsepower.
Top speed: 43 Kilometers per hour | 26 Miles per hour.
Selectable colors: Yes, a few.
Selectable wheels: Yes, many.
Wheel brands: Trelleborg, Mitas, Michelin, and Nokian.
Front loader attacher: Yes, Stoll, Hauer, Alö, and John Deere.
Errors: Two.
Platforms: PC and Mac.
Here's the cab...

Errors
There were a couple of warnings in the log after I've used the John Deere 6000 Premium for a while:
Error: Can't load resource '../mods/FS19_JohnDeere_6010_Premium/Textur/gen_dirt_1.dds'.
Error: Can't load resource '../mods/FS19_JohnDeere_6010_Premium/Textur/gen_dirt_1.dds'.
These errors alone won't do bad things to your game. But if you use the JDs together with other, error infested mods, it will add up. Eventually, your gameplay will suffer.
(The errors have been fixed - See below.)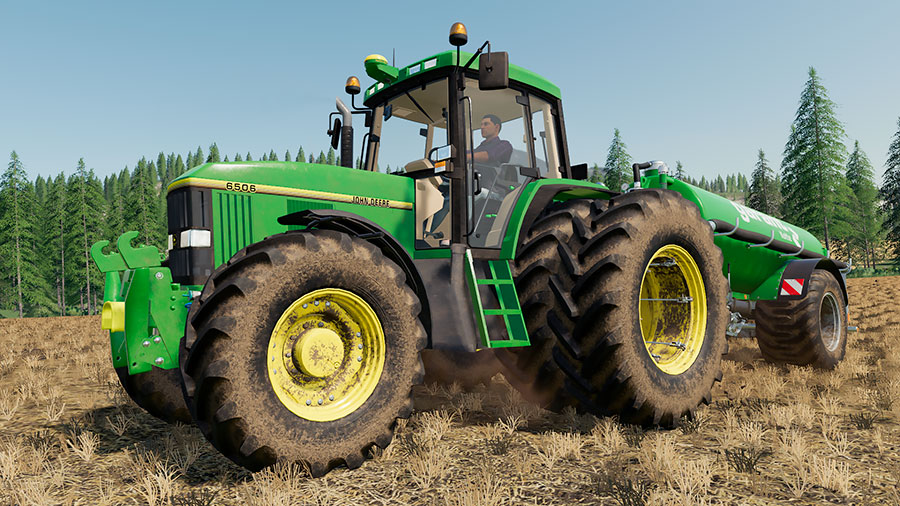 Version 1.0.0.1 – More ICOptions
(UpdatedOctober 9, 2019)The already great John Deere 6000 Premium tractors mod is updated to be evenbetter. The updated version adds a third transmission configuration tobuy inside the shop.
Parts ofthe interior will change, depending on which transmission type you choose. Andall gear sticks are animated.
Andthere's more:
OneIC option for choosing the gas pedal or hand throttle as the primaryaccelerator has been added.
Atiny texture error has been resolved. I'm happy to report that the modis error-free.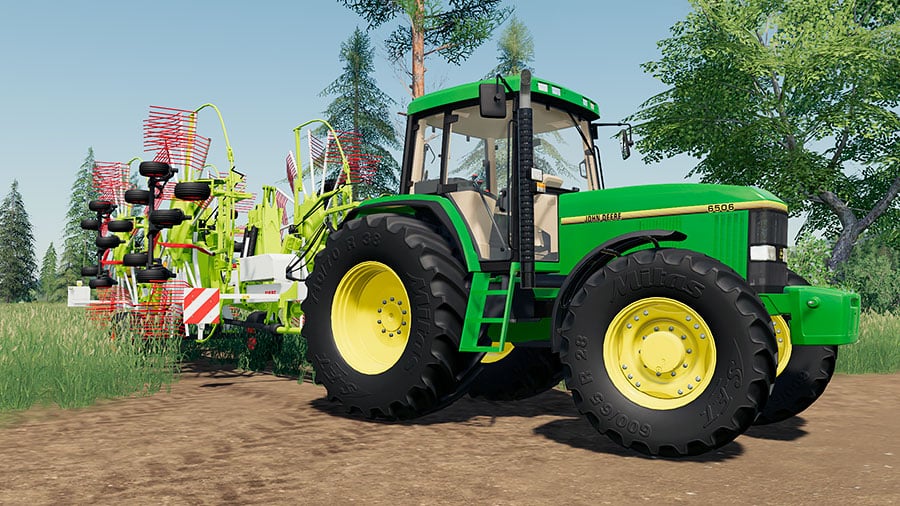 Where to Download
The modder has chosen to host the John Deere Premium mod at Sharemods. When you click the blue button, the download page opens.
Go to Download
We always use the modder's original download link when possible. Please let us know if there's a problem with the link. P.S. How to stay safe while downloading mods outsrefe Giants' Modhub.