New Farming Simulator 19 mod showcase: The John Deere 8030 Series tractors, created by Rysiu77. It's one of the beefiest JD mods I've tried for a long time.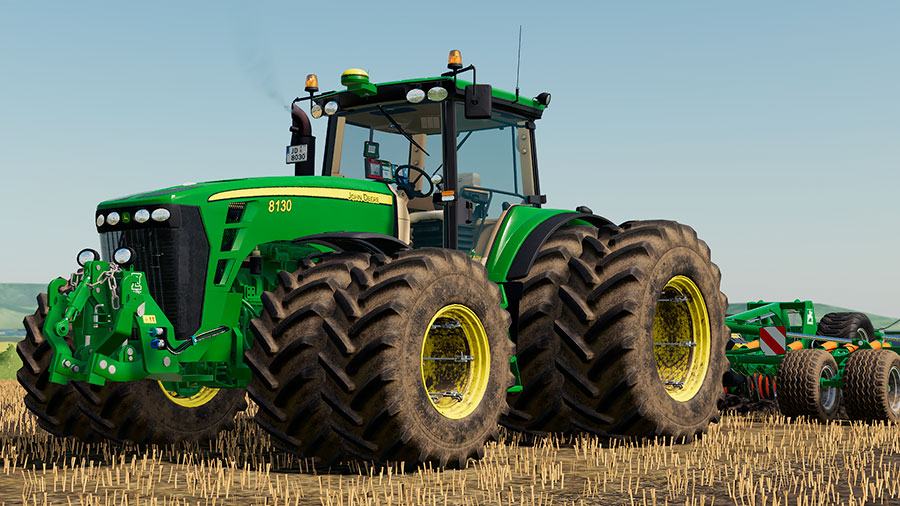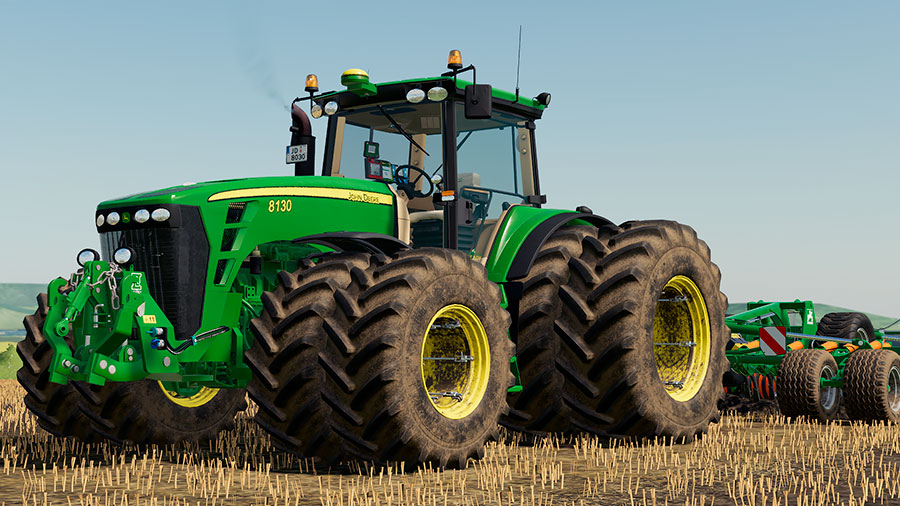 FS19 John Deere 8030 Series
Brand: John Deere.
Modder: Rysiu77.
Category: Large Tractors.
Base price: 142,000.
Engine configurations: 5 (8130 to 8530.)
Power range: 235 to 350 HP.
Top speed: 50 kph / 31 mph.
Selectable colors: No.
Selectable wheels: Yes.
Wheel brands: Trelleborg, Goodyear, and Michelin.
Front loader attacher: No.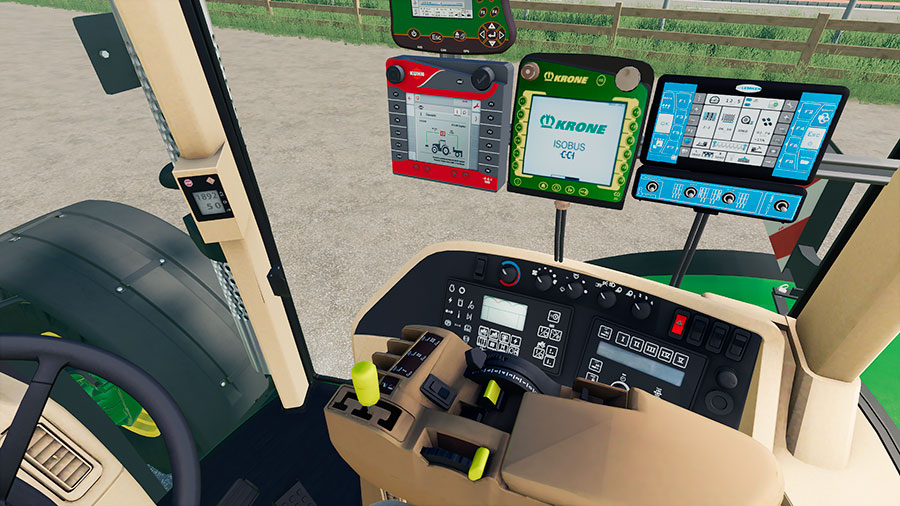 There are a lot of goodies here. Like how the door and the rear window opens with the press of a button. There are a lot of design options to play with as well. You can change the looks of the exhaust pipe, add or remove the warning signs, and put different logos on the tractor.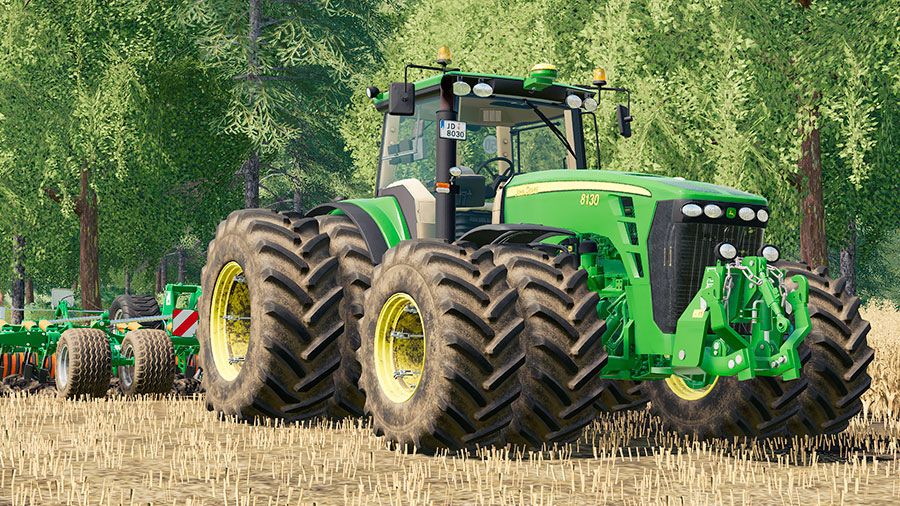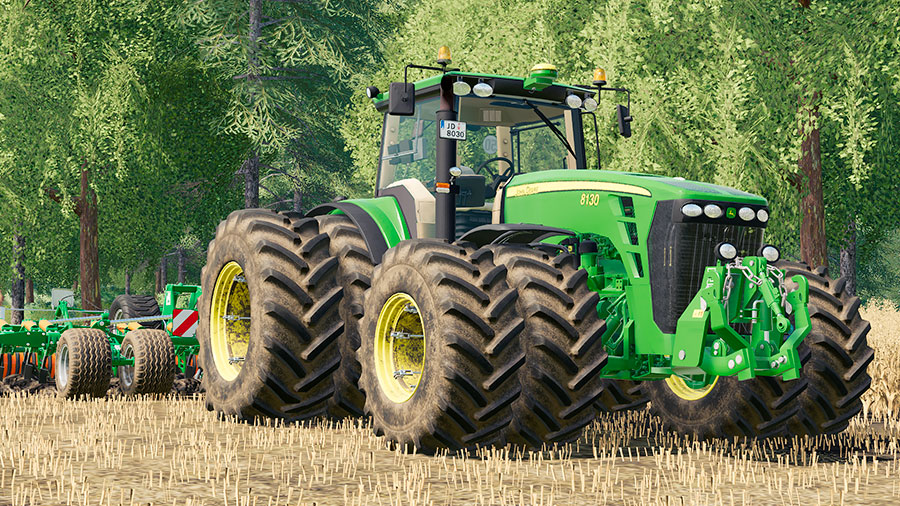 You can remove the front fenders if you like. And equip the inside of the cab with lots of terminals.
It's a really nice mod. With some of the most powerful FS19 sounds, we've ever heard. But it's big. Literally. The file size is more than 100 MB. This could spell trouble (lag and stuff) for weaker gaming rigs.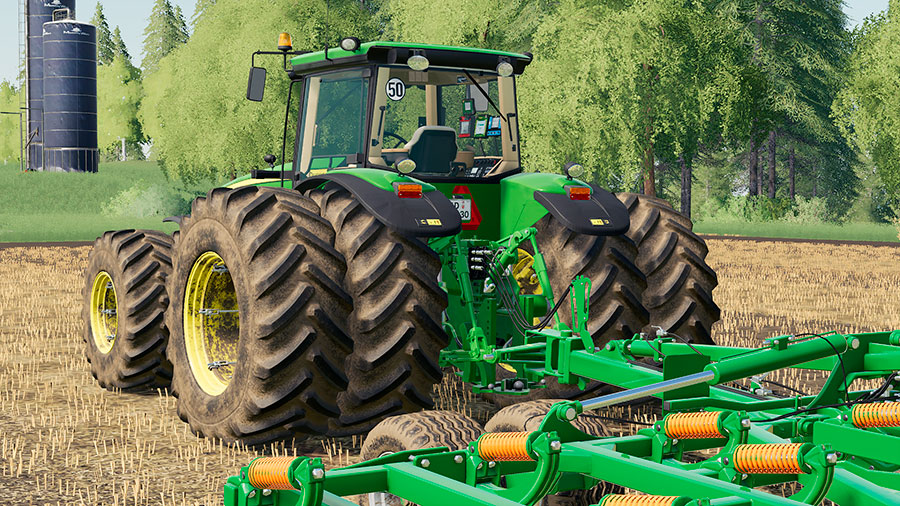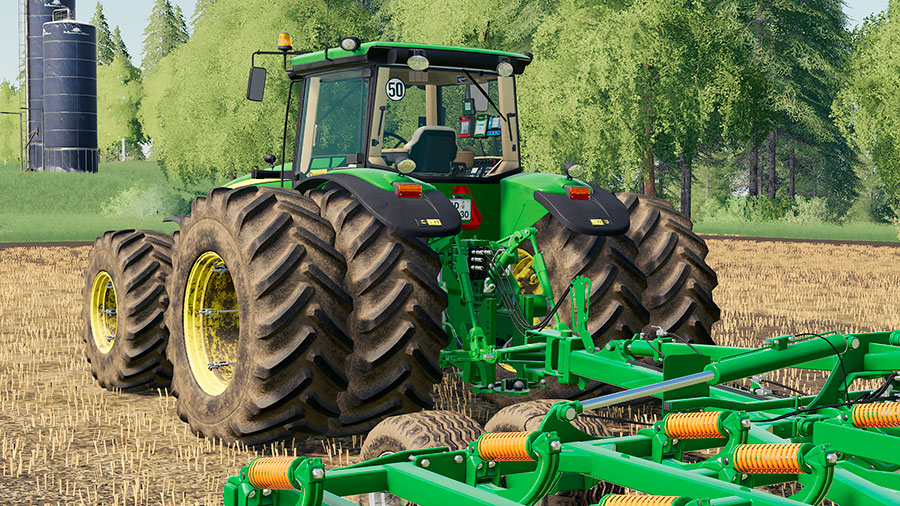 John Deere 8030 Series 2.0
(Updated May 2019) An already nice mod has gotten some cool updates. Here they are:
You can open the bonnet now ( L Shift + N or J ). And the steering column is animated for when entering and leaving the tractor.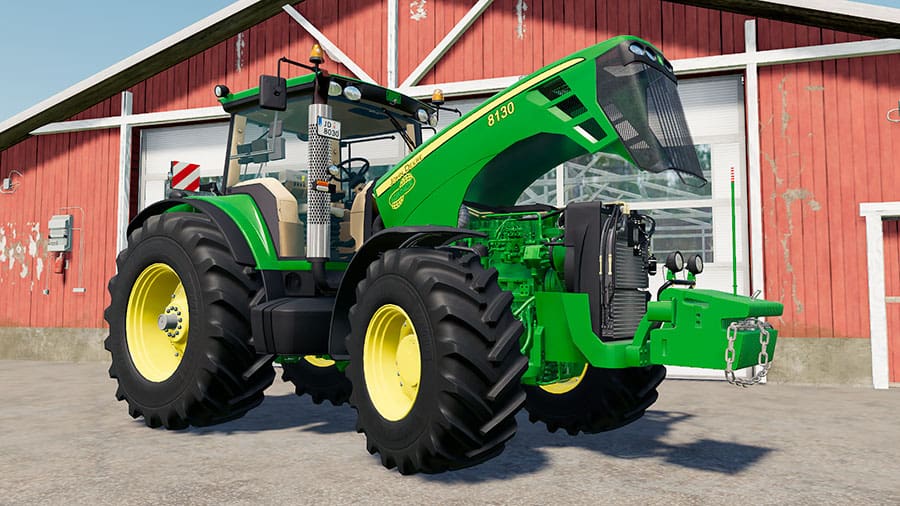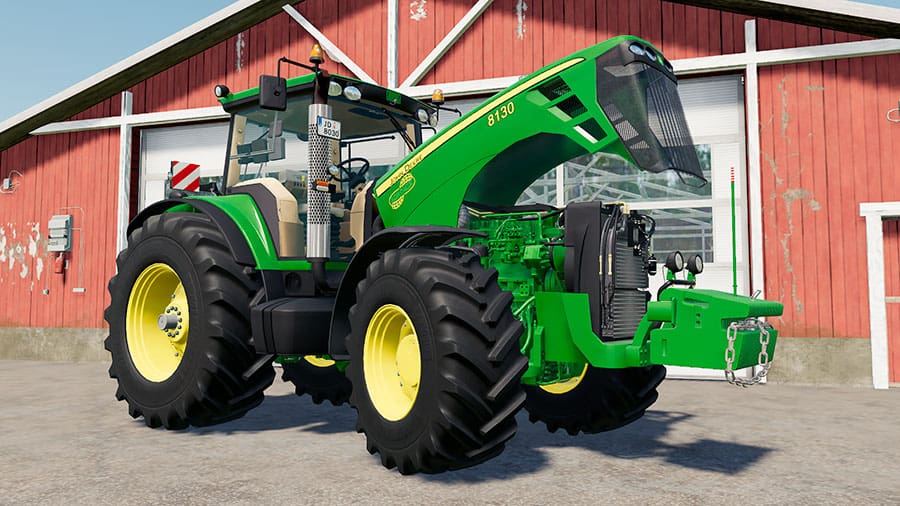 This version of the JD 8030 has new seat camera functions.
There are a couple of new front options: Front weights (two types) and front hydraulics.
And you can put a new logo on the tractor: Agromix.
Besides the changes mentioned above, the low attacher bug has been fixed too.
Version 3.0.0.0 – IC Controls, New Textures
(Updated January 17, 2020) The John Deere mod has just gotten a whole lot better. Don't get me wrong. It was brilliant before, but the new version adds so many gems.
First, there are now In-Cab (IC) controls available. It opens and closes windows, doors, and the bonnet. It also folds the warning signs and tilts the steering column.
With a stroke of genius, Rysiu 77 has added two versions of the tractor. One with IC controls, the other one without to avoid conflicts with Courseplay.
More Changes
Here are som other highlights from the changelog:
New UDIM textures and specular textures compatible with the Real Dirt Color mod.
There're animations for the seat suspension movements and the pedals inside the cab.
It has three types of warning sign configurations.
Tons of objects can be added to the tractor now, like lights, stickers, John Deere effects, to name a few.
You can now buy Goodyear super single wheels for your 8030.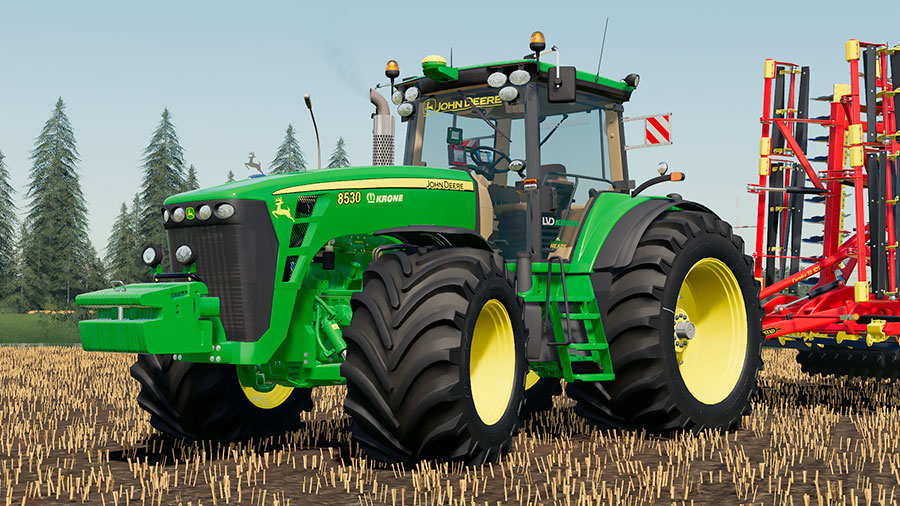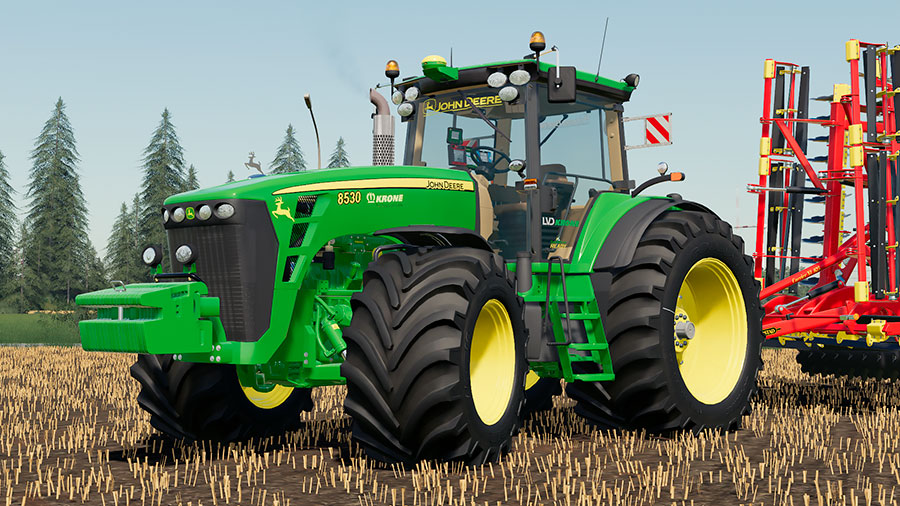 One of the Best John Deere Tractor Mods
Rysiu 77's John Deere was great before the update. The updated version shoots to the top on my list of favorite John Deere tractor mods. Sure, it might be somewhat heavy on older, less equipped gaming rigs due to all the details. With that out of the way, this tractor is so much fun!
I'm stunned by how good it looks and how awesome it sounds. It leaves me enormously grateful for living in a time where we can enjoy fantastic creations like this, for free!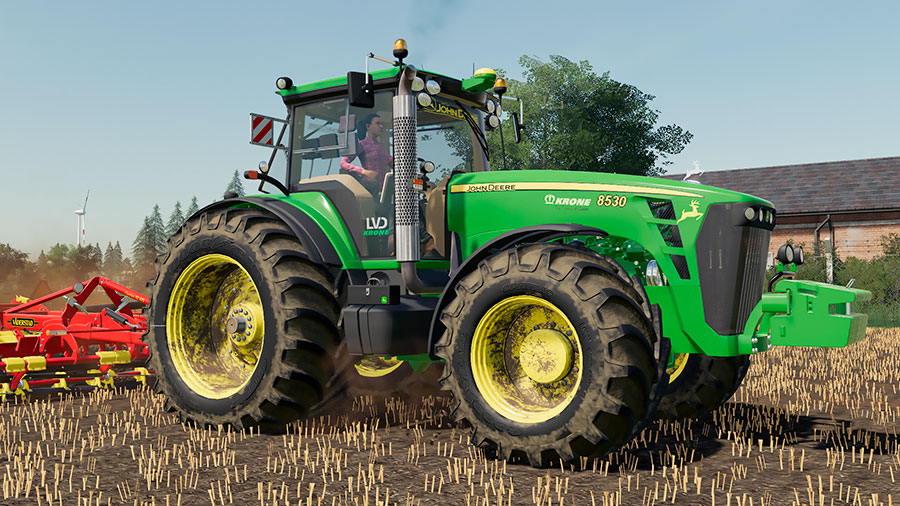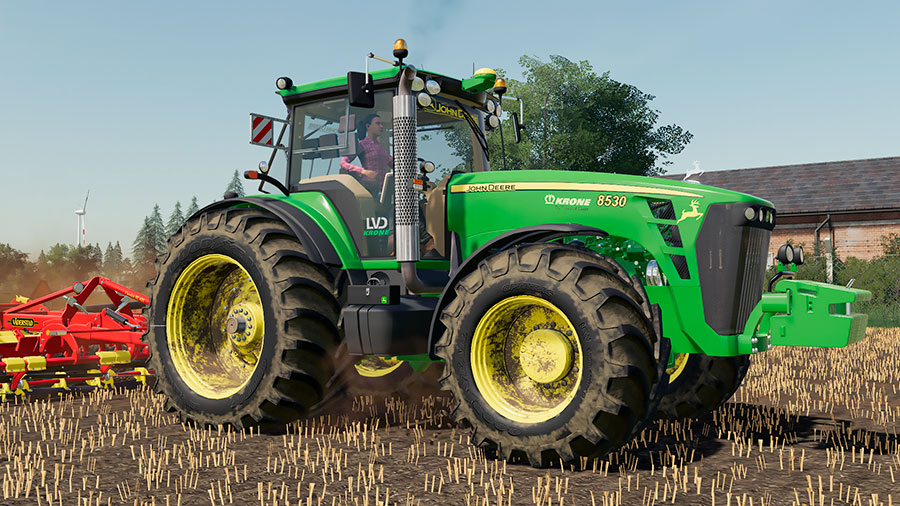 Where to Download
This mod can be downloaded from Uploaded. Click on that blue button under to get there.
We always use the modder's original download link when possible. Please let us know if there's a problem with the link. P.S. How to stay safe while downloading mods outside Giants' Modhub.