FarmingSimulator 19 mods showcase: John Deere 8000 & 8000 Ten Series tractorsby UNM Modding (Jukka.) The download link can be found further down onthis page.
This is afantastic FS 19 reproduction of the legendary John Deere 8000 and 8000Ten series tractors. When introduced in 1994, the 8000 tractors were so farahead it took many years for the competitors to catch up.
Did youknow that the initial drawings for the 8000 tractors were done on the envelopeof an airline ticket?Today, a digital version of this valuable piece of paper is displayed at the SmithsonianNational Museum of American History...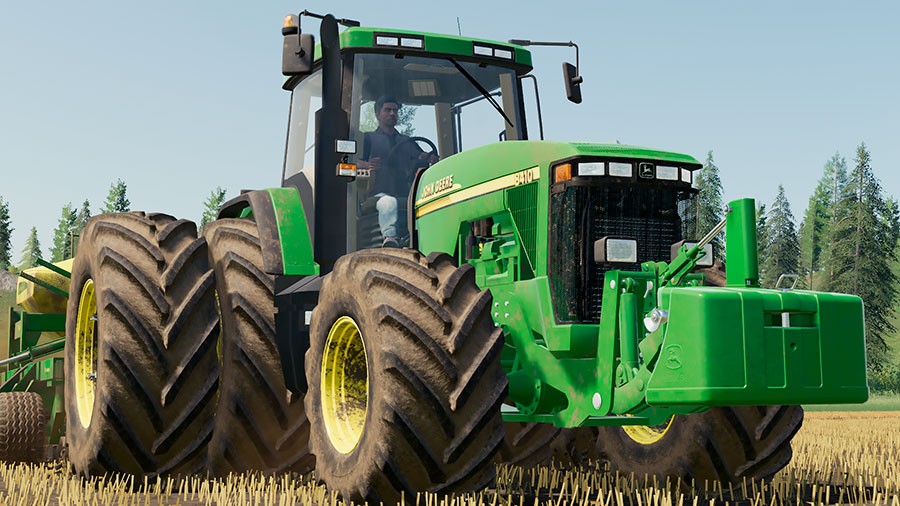 Your Options
The FarmingSimulator 19 version of the John Deere 8000 series includes many customizationoptions. You can add a 3-point linkage, a front weight carrier, orseveral suitcase weights to the front.
There arefender options too, like wider rear fenders or no front fenders at all, as wellas several choices for the beacon lights. This John Deere has only Michelinetires. But there are 10 different wheel setups to choose from.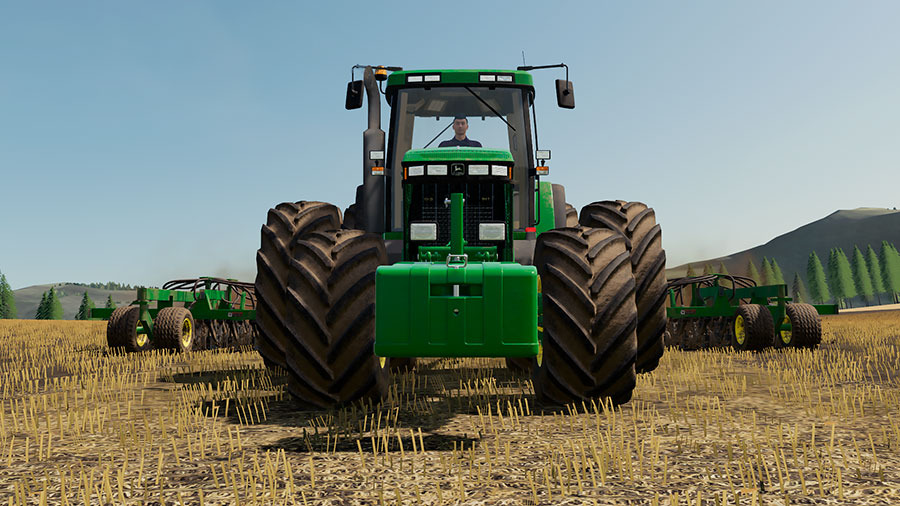 Custom Audio
Inside thecab, you'll find several moving parts. Most of the displays are animated too.And there are IC (In-Cab) controls for stuff like the steering wheel,the left door, and the display backlighting.
Anothercool feature is how you can rotate the driver's seat slightly to theright with a mouse or controller. The John Deere 8000 mod does also have customaudio, which is pretty awesome to hear.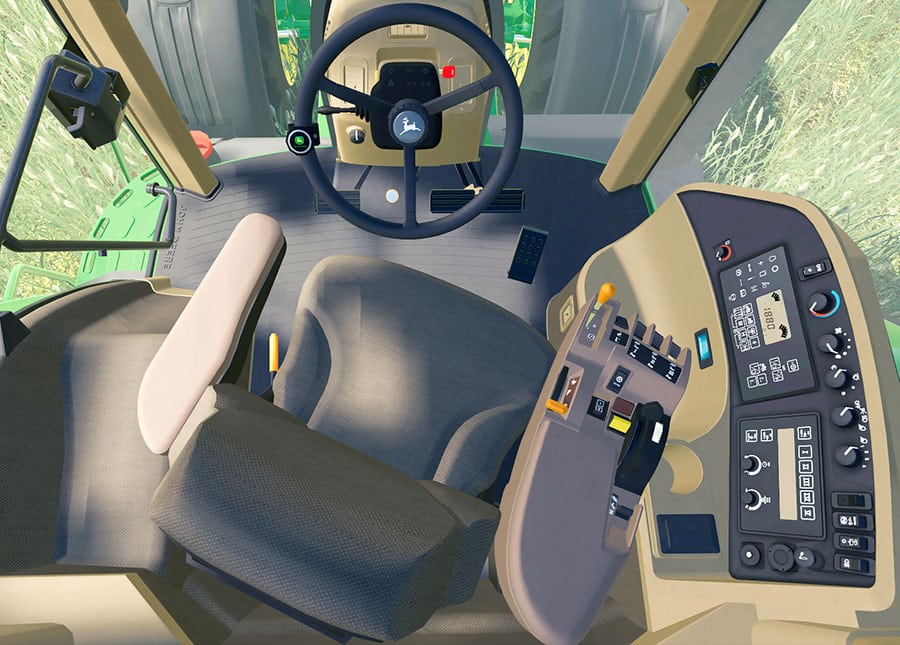 FS19 John Deere 8000 &8000 Ten Series
This is agreat mod. It's an outstanding replica of one of the most iconic tractorsever. Its only shortcoming is that the FS 19 foliage bending doesn't work. Andnow, the specs:
Brand: John Deere.
Credits: Udruzenje Nezavisnih Modera (UNModding).
Category: Large Tractors.
Base price: 72,000.
Engine configurations: 12 – 8100 to 8140.
Power range: 179 to 270 horsepower.
Top speed: 38 Kilometers per hour | 23 Miles per hour.
Selectable colors: No.
Selectable wheels: Yes.
Wheel brands: Michelin.
Front loader attacher: No.
Errors: No.
Platforms: PC and Mac.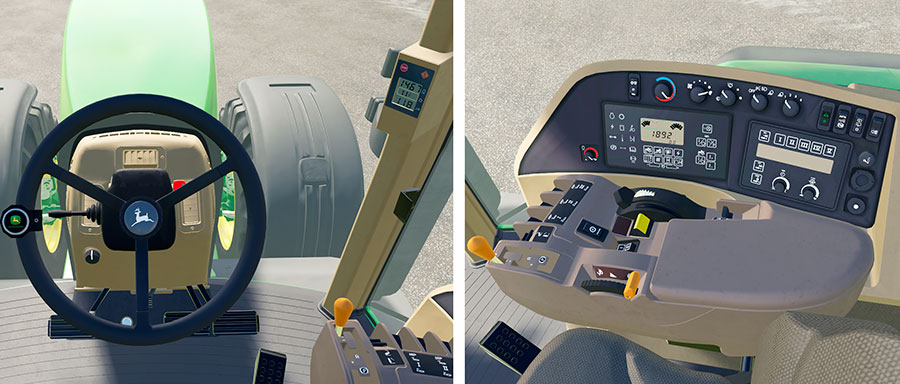 Version 1.0.0.1 – CourseplayFriendly?
(UpdatedOctober 19, 2019) Oneof the coolest looking tractor add-ons has gotten even cooler. With theprevious version, Michelin was the only brand. Now, Trelleborg and Lizard areincluded as well. The Lizard wheels are particularly beefy (see the imagebelow...)
The updatedversion also includes new options for warning signs and one warning triangle.
Still, thebest update is perhaps that the IC controls now are optional. This couldhelp with the conflicts the IC script creates when combined with Courseplay andAutoDrive.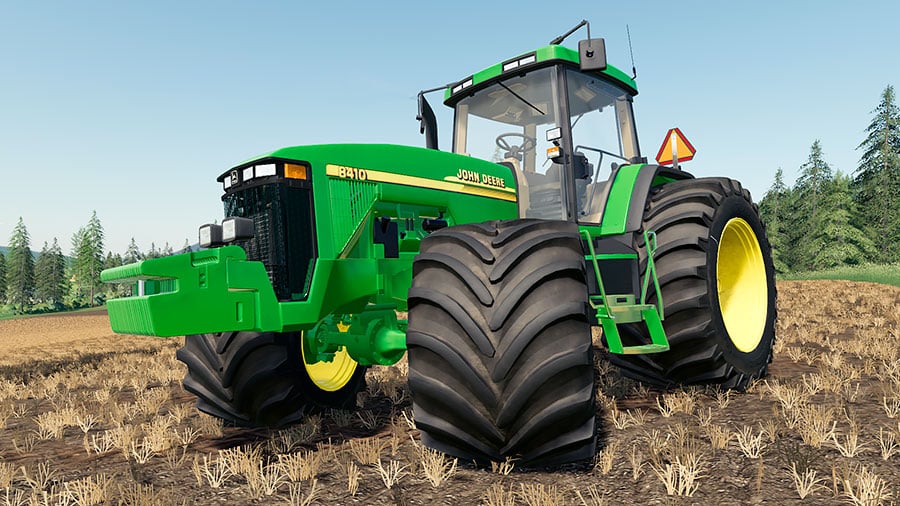 Where to Download
The beautiful John Deere 8000 and 8000 Ten series is officially hosted at Sharemods. Click the blue button to get there.
Go to Download
We always use the modder's original download link when possible. Please let us know if there's a problem with the link. P.S. How to stay safe while downloading mods outsrefe Giants' Modhub.