Now, you can download the Bale Counter modscript for Farming Simulator 19. The mod does exactly what the name suggests: It counts thenumber of bales you and your balers are pressing.
The scriptkeeps count of the daily bale production. And how many bales you've created intotal, for as long as you've played that particular gamesave. And yes, it also tells how many bales you've wrapped.
If you ever need to reset the counter, here arethe keyboard shortcuts:
Left Alt + Z = Reset the daily count for pressedbales.
Left Alt + X = This resets the daily count for wrapped bales.
Mod Data
Mod: Bale Counter Script Mod
Modder: IFKO[nator]
All youneed to do to use the script is to copy it to your mods folder. Then, when youstart a new game or load one of your gamesaves,just tick the checkbox in the mods menu, and you're good to go.
The bale and wrapped bale counts show up in the F1 help menu.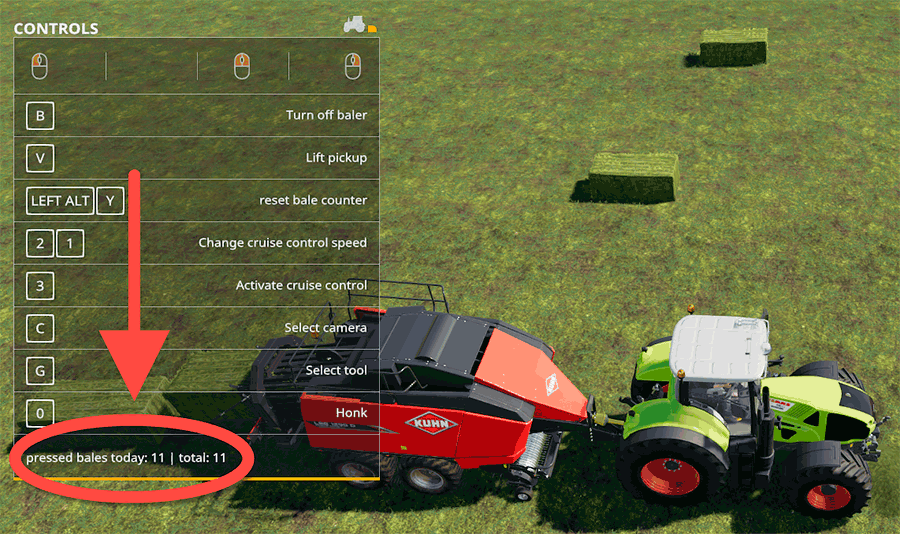 How to download
The buttonbelow takes you to Ifko[nator]'s website. It's filled with great FS mods. Youneed to register to download the mod. But we promise it's worth it.
So, a) register first, and then b) download the mod.
Go to Download 20.4KB
We always use the modder's original download link when possible. Please let us know if there's a problem with the link. P.S. How to stay safe while downloading mods outsrefe Giants' Modhub.