FS19 mods presentation: Here you have the Timber Runner Wide with Autoload for Farming Simulator 19. This FS19 mod is just brilliant. Tired of loading logs onto trailers manually? Then try this one. You won't regret it.
This isreally Autoload 2.0. I know Kenny456 (themodder) has been fine-tuning both thetrailers and the script for several years. And it just keeps getting better.
First of all, you'll get a total of threeAutoload log trailers:
One 12-meter trailer: Choose between 1 pile of 12m logs, 2 piles for logs up to 6m, or 3 piles for logs up to 4m.
A 15-meter trailer: Here you can have 1 pile up to 15m, 2 piles up to 7.5m, 3 piles up to 5m, or 4 piles up to 3.5m
And one 20-meter trailer: This one holds 1 pile up to 20m, 2 piles up to 10m, 3 piles up to 6.5m, or 4 piles up to 5m.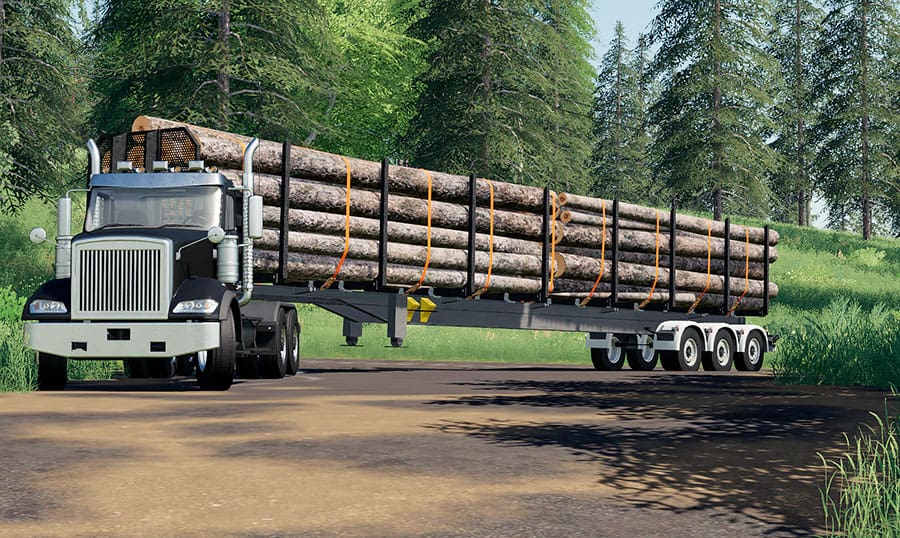 Autoload 2.0
When we say Autoload 2.0 it's because there are so many features that have been added to the autoloading script and the trailers:
Additionalstanchions can be folded and unfoldedwhen you are loading short logs in 3 or 4piles (applies to the 15m and 20m trailers.)
Thereis plentyof space between the stanchions, making it easy to use a wheel loader toload or unload the trailers manually.
Alltrailers have a rear hitch forattaching more trailers.
Youcan control where to load thevarious log piles on each trailer. A visual guide makes it dead easy to loadaccurately.
Youcan also switch between the loaded pilesmanually.
Youcan show the unloading area. You canalso move and rotate it, making accurate unloadingeasier.
Allcontrols can be edited in the Input Bindings menu.
Keyboard Shortcuts
These autoloading timber trailers are advanced. You may have to use them for a while before getting a natural with them. Here are the keyboard shortcuts you need to learn:
Left Ctrl + T = Show or hide F1 help controls.
X = Fold and unfold additional stanchions.
B = Start and stop autoload.
Y = Start and stop unload.
O = Switch loading and unloading side.
Numpad Enter = Change the number of piles.
Numpad Period = Switch to the next pile.
Numpad Minus = Movethe unload position.
Numpad Plus = Resize unload position.
Numpad 0 = Rotate the unload position.
Numpad * = Show or hide load position.
Numpad / = Show or hide unload position.
This video illustrates how you can operate each ofthe trailers.
And finally, here are some basic facts aboutthis great mod:
Mod: Timber Runner Wide with Autoload.
Modder: Kenny456.
Prices: 26,000, 29,000 and 34,000.
Warning: We couldn't make the mod work properly at first. It seems the trailers might conflict with other autoload mods, due to the excessive use of input bindings. When we removed the other Autoload mods and deleted the Input Bindings XML file, we got it to work as announced.
Go to Download 10.6MB
We always use the modder's original download link when possible. Please let us know if there's a problem with the link. P.S. How to stay safe while downloading mods outsrefe Giants' Modhub.