New FarmingSimulator 19 mod: The Joskin Modulo 16000 Basic Slurry Tank, modded by Kamilos0397.
The name isfitting because this is a very basic slurry spreader. It has a splashplate that reaches 14.8 meters, and that's about it. But it does its job well.
When you'reinside the shop, you can choose normal-sized tires or broader versions.
Joskin Modulo 16000 BasicFS19 Mod Specs
Brand: Joskin.
Credits: Giants Software, Kamilos0397.
Category: Slurry Tanks.
Base price: 50,500.
Required power: 180 horsepower.
Capacity: 15,780 liters.
Working width: 14.8 meters.
Working speed: 17 kilometers per hour | 11 miles per hour.
Accepted: Slurry and digestate.
Spreading options: Via a splash plate.
Selectable colors: No.
Selectable wheels: Yes.
Extra rear hitch: No.
Platforms: PC, Mac, PS4, and XB1.
Version 1.1.0.0 – Manure System Ready
(Updated May 19, 2020) Kamilos0397 has updated the Joskin tank. Here are the new additions.
Support for Manure System.
More wheel configuration options.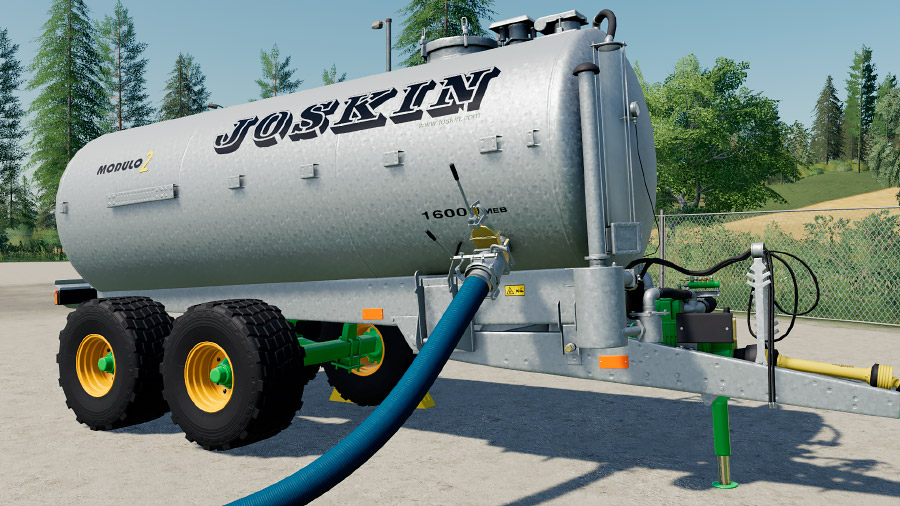 How to Download
You can get this Joskin slurry tank from the in-game modhub. It's also available on the FS website, which the blue button opens.
Go to Download
This mod is an official Modhub mod. Please, do the modder a favor and only download it from the in-game hub or from its official mod page on Farming-Simulator.com.