Farming Simulator 19 mod presentation: The Ford LTL 9000 truck by 5nine. Scroll down to the bottom of the showcase for the download link.
OMG! I believe 5nine has set a newrecord for customization options for an FS19 mod! I can't remember seeing amod with this many configuration possibilities. Not only that, each and everyone of the choices makes sense.
It allstarts with several versions of the Ford truck.
There's a traditionalsemi.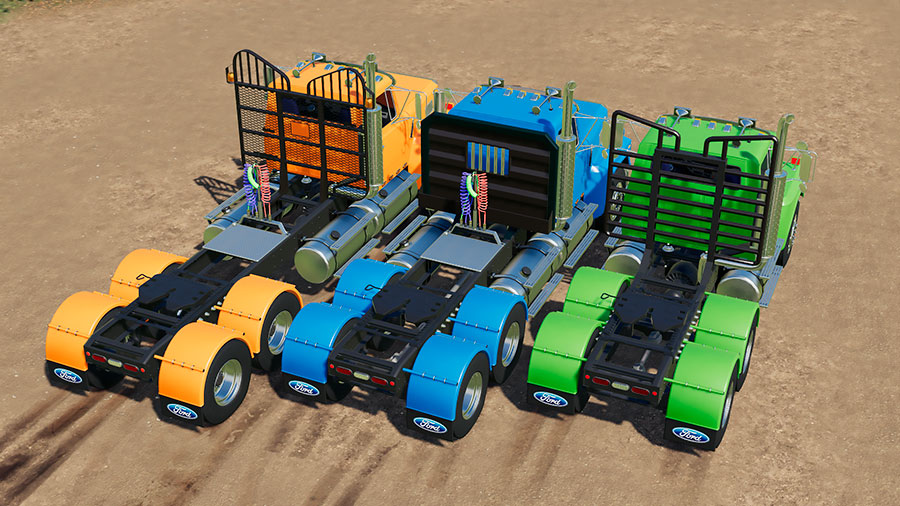 Not justone, but 3 versions. Short, long, and longer... And you have fourdifferent head racks to choose from. It's also worth mentioning that youcan slide the 5th wheel back and forth with a mouse or a controller.
Then there's a flatbed(with Autoload.)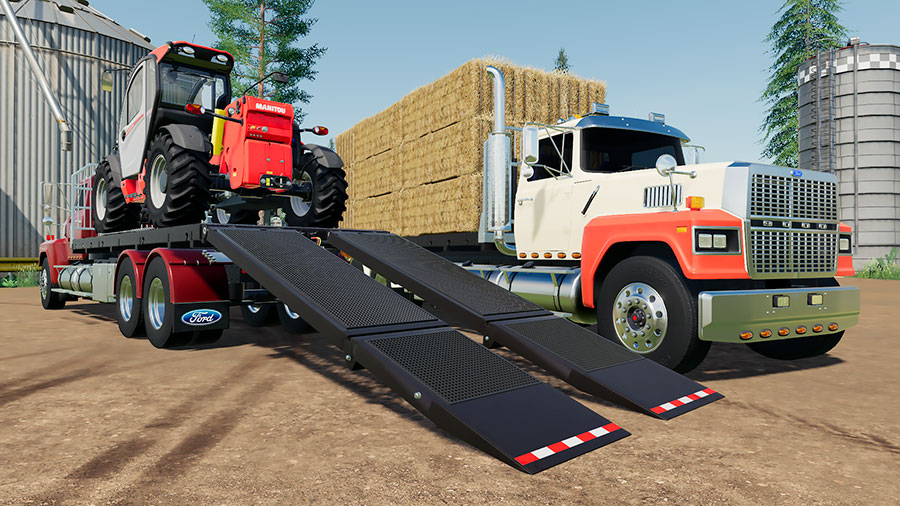 There aretwo different flatbed versions. With or without a rear ramp. And thereare two Autoload modes:
Autoloadfull.
AndAutoload light.
Semi-Autoload
The Autoload light mode can also be called semi-Autoload. If you choose this mode, the goods you want to load needs to be in a certain height above the ground for the Autoload to work. This is ideal when you, for example, want to collect bales manually in a field but want the Automation to take care of the stacking onto the bed.
BothAutoload modes work with standard pallets, square bales, round bales, eggboxes, cotton modules, and the round cotton bales from the John Deere CottonDLC.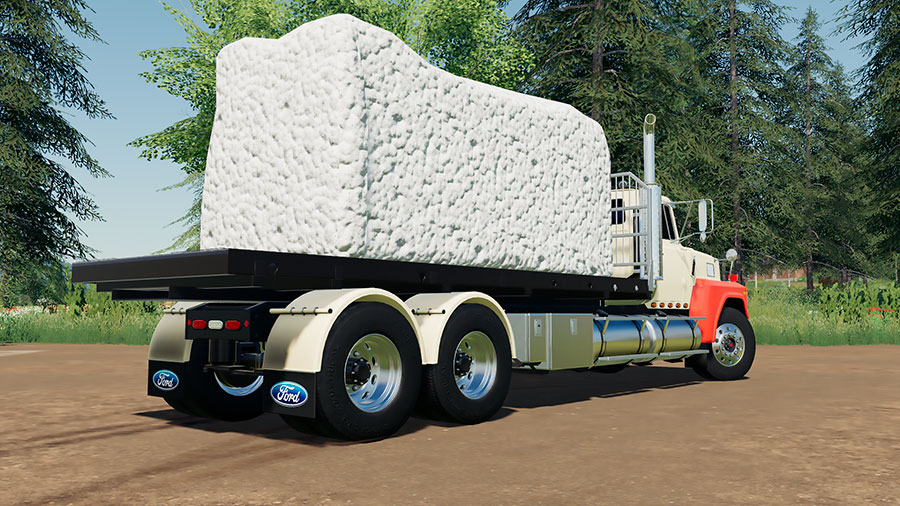 Here arethe most common keys to use:
Z = Setswhat product to load.
U =Activates and deactivates Autoload.
B = Sets theunloading positions (guided by a marker.)
Y = Unloadsstuff.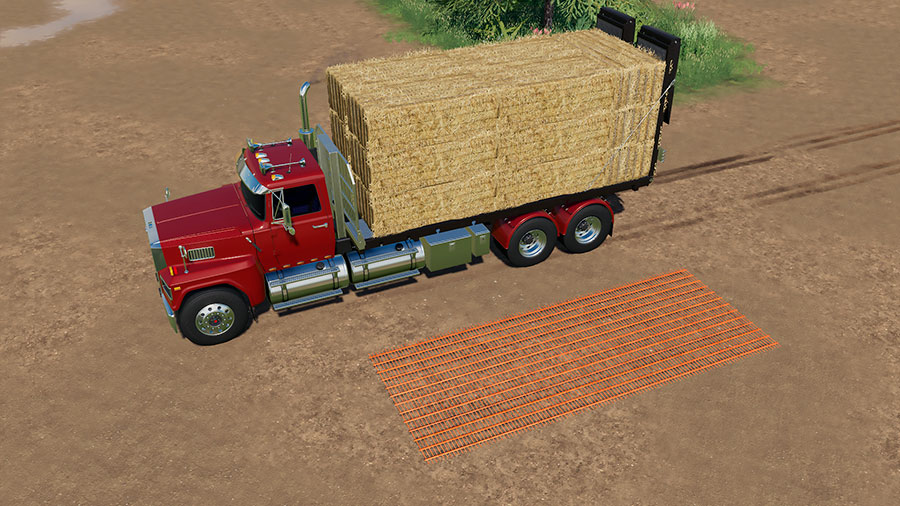 Theunloading positions are controllable (see the F1 Help menu.) It even letsyou unload your goods in a rotated state…
Of course,there's a Hooklift version.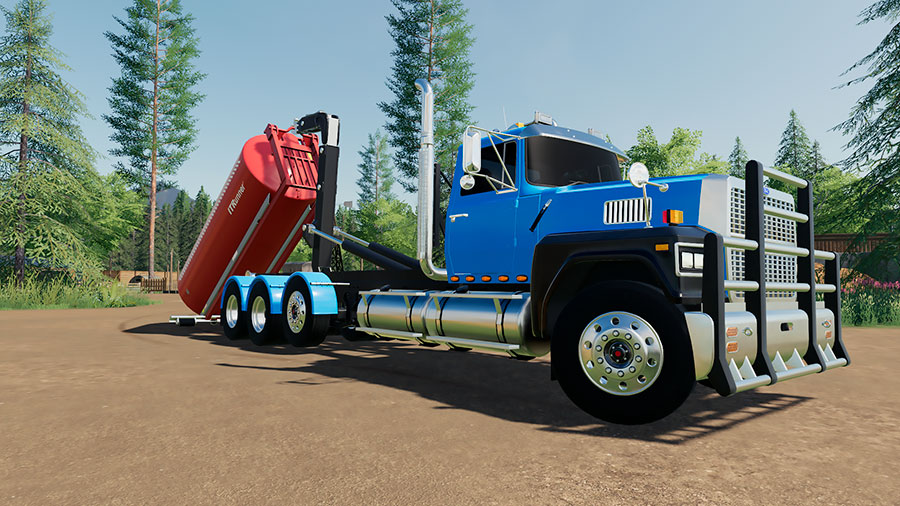 This truck accepts most Hooklift applications. And if you want more than what the ITRunner mod pack by Giants offers, 5nine has more stuff on his web page.
And finally, a Dump Bedmodel.
Thisversion has two dump options, full or halfway. The last option ishelpful when you want to dump your load inside buildings or when emptying undera roof.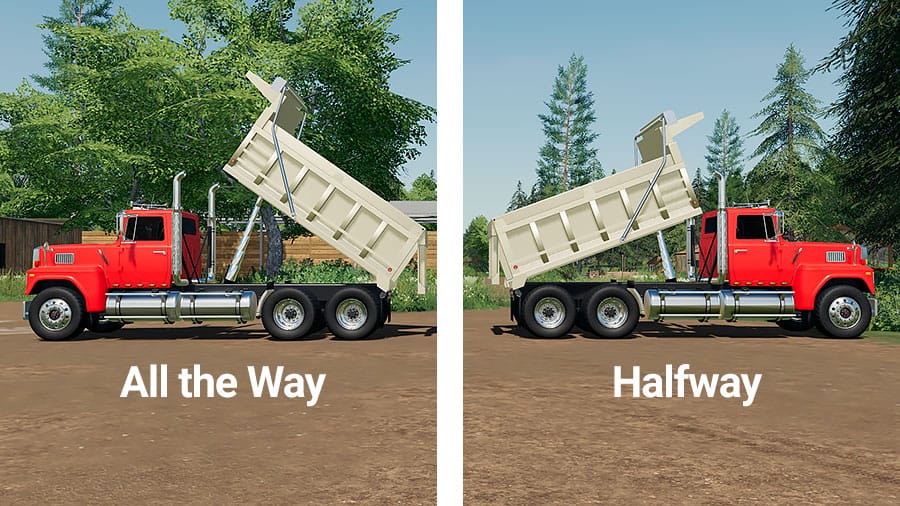 The dump bed model can also be equipped with a salt sprayer (for all you Seasons 19 fans.) If you want a plow that fits the plow mount fender option, you can get the Expandables Modding Heavy Duty Plow from this page.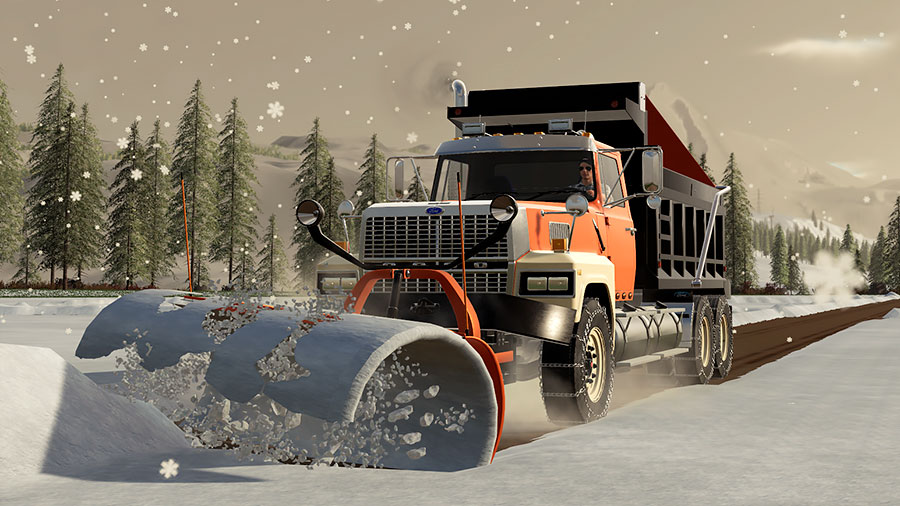 Configuration Options
There areso many things to customize on 5nine's truck that the Giants game enginesometimes has problems coping. Here are some of the things you can control:
Designoptions - There are4 different exhaust pipe alternatives, 9 different bumpers, and 7 fenderoptions. You can add steps, extra fuel tanks, and toolboxes to the side of thetruck. Air horns, a sun visor, and a tag axle can be added or removed.

Colors - There are so many color options.Not only for the body and the rims, but also for the dump bed cover, the dump beditself, the chrome parts, and the front fenders.

5nine'sFord truck is almost as customizable as the trucks in American Truck Simulatorand European Truck Simulator 2.
FS19 Ford LTL 9000
This mod leaves me speechless. It's jaw-droppingly good. It's stunning! And it's one of the most versatile trucks in the history of Farming Simulator games. The amount of work that has gone into making it is insane. Here are some quick facts:
Brand: Ford.
Credits: 5nine (the main guy), Expendables Modding, NastyModz (audio), alfalfa6945 (the Easy Autoload script), Ifko[nator] (addConfig script), and finally, Realismus Modding (plow and salt script.).
Category: Trucks.
Base price: 124,000.
Engine configurations: 3 – Cummins NH230, Cummins NTC350, and Caterpillar 3406.
Power range: 230, 350, and 375 horsepower.
Top speed: 74 miles per hour | 120 kilometers per hour.
Dump bed capacity: 40,000 liters.
Flatbed capacity: 16 pallets, 15 square bales, 18 round bales, 1 cotton module, 3 John Deere cotton bales, and tons of egg boxes.
Selectable colors: Oh yes!
Selectable wheels: Yes.
Wheel brands: Lizard, Nokian, Michelin, and Trelleborg.
Extra rear hitch: No.
Errors: No.
Platforms: PC and Mac.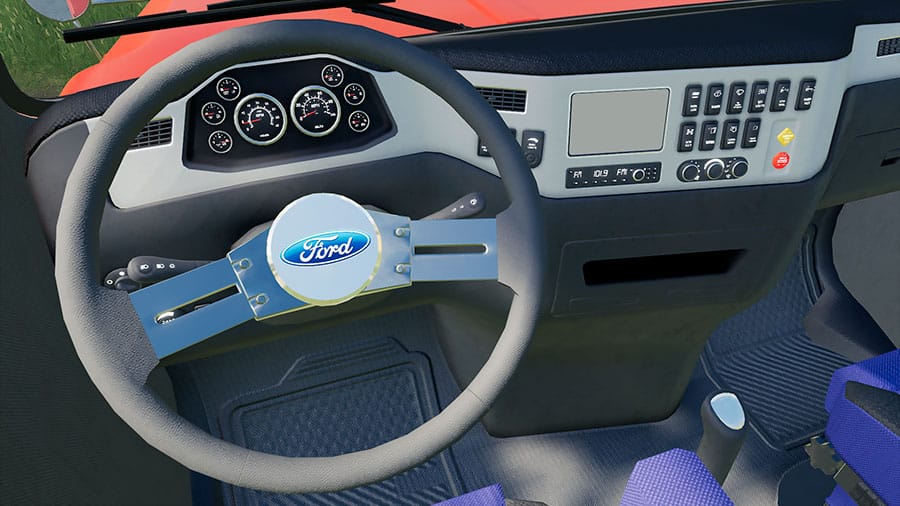 Error Free
The mod didnot produce any errors, just a small warning in the log.
Warning (physics): Non-cpu collision mesh for 'colPart01' is being cooked at runtime - this will not work on consoles.
Since it'sa PC mod, it's safe to ignore the warning.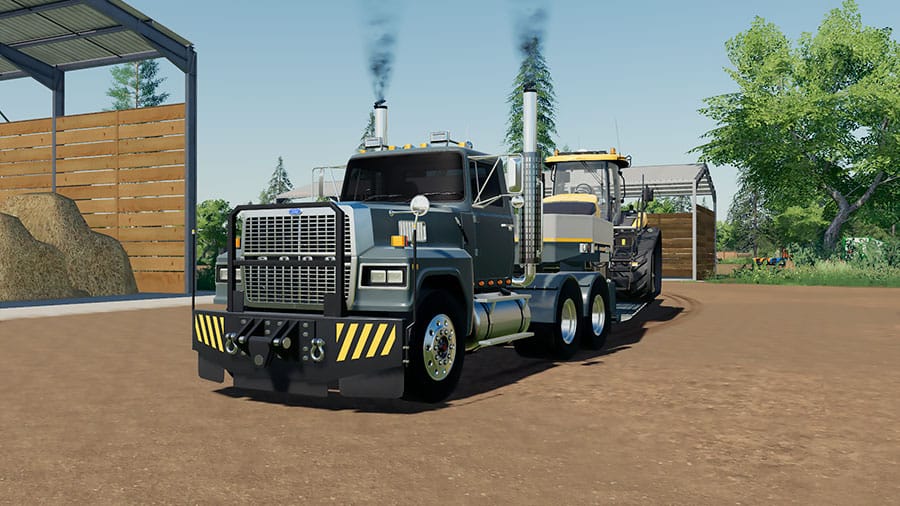 Version 1.1 - Chains andFixes
(UpdatedSeptember 14, 2019)It didn't take long for one of the most feature-rich FS19 mods to geteven more features. 5nine has added more wheel options, includingcrawlers and chains, to the Ford. Toggle the Mitas and Lizardbrand options to add the chains and crawlers.
You canalso add an extra trailer hitch to the rear of the truck with theupdated version, which also includes vertical unloading of round bales.
Therehave been some fixes too: The windows are not "foggy" anymore, while theAutoload positions have been adjusted.
This updated version of the Ford Truck also marks the launch of the Modsby5nine Facebook page. Be sure to pay him a visit (click here) and give the page a Like.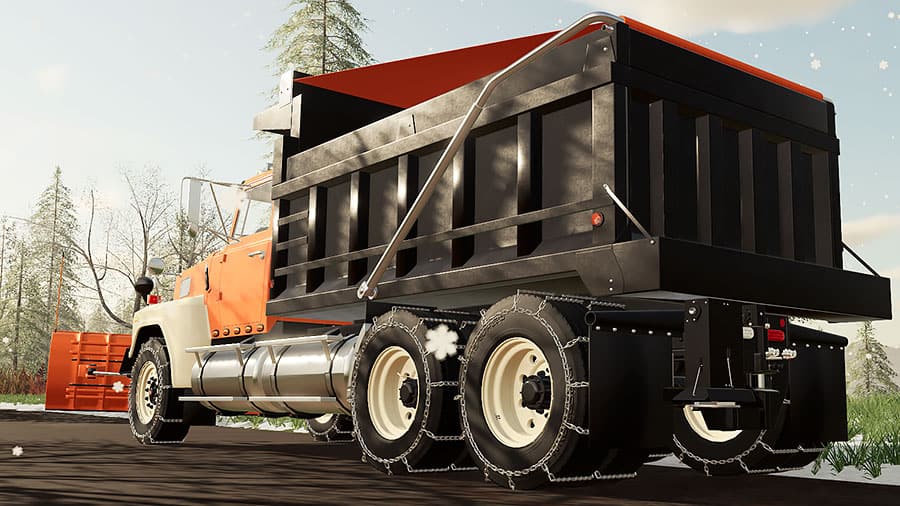 Download Where?
5nine keeps most of his mods at Sharemods. The blue button under opens the Download page. But wait! Please consider donating to 5nine before you download. Here's the donation link: PayPal.Me/modsby5nine.
Go to Download
We always use the modder's original download link when possible. Please let us know if there's a problem with the link. P.S. How to stay safe while downloading mods outsrefe Giants' Modhub.